How Humanitarian Aid Workers Continue to Provide Assistance for Those in Crisis
Ahmed Alameldeen has been working with the International Committee of the Red Cross since 2014. His experience as a pharmacist led him to pursue humanitarian aid as he began his journey working in the medical supply department in response to the Ebola virus in West Africa.
Since then he has undertaken a range of missions, such as work on the Lake Chad Crisis in Nigeria, and more recently work on the Mosul operation in Iraq.
Since 2016 he has been working on the Mosul operation and continues to provide humanitarian assistance for those who need it most.
Question: Tell me briefly about your experience working with the International Committee of the Red Cross.
I started working with the International Committee of the Red Cross in August 2014 in Liberia, in response to the Ebola virus in West Africa. I started in the medical supply department, as I am originally a pharmacist.
After Liberia, I worked in Nigeria for a year, also in the medical supply department, in response to the Lake Chad Crisis. This assignment took place in the North-Eastern Nigeria. When I finished working in Nigeria, I changed my department to focus more on field operations and front-line negotiations, and this is when I started working in Iraq from September 2016, covering the humanitarian response of Mosul operation.
The International Committee of the Red Cross has an inclusive and great working environment which is more than often demanded by the nature of the work. My experience with the ICRC has been able to provide me with amazing satisfaction. The organization is generally very well structured and organized which allowed me to work to the best of my abilities. I enjoyed strong security protocols and had nothing to worry about when it comes to budget and financing. I believe that a strong reputation in the industry and their existing expertise has allowed the ICRC to develop the finest experience for their workers.
During my work with ICRC, I was so happy to be awarded with an opportunity to have a real impact on the lives of some of the most vulnerable people in the world. A wide exposure to a variety of programs helped me to have a real sense of what is actually going on in the field. This not only enabled me to build a more empathetic attitude but also helped in tackling the actual challenges.
Question: What were your primary role and duties in your assignment in Iraq?
I started working in Iraq in September 2016 to manage the humanitarian field activities of the ICRC related to Mosul Operation. I was leading the front-line negotiations to access the regions stranded by military actions, to facilitate humanitarian efforts.
On my assignment in Iraq, I worked on implementing the ICRC's mandate during the stability operations in the country. During my work, I did my best to provide humanitarian assistance to the groups in Iraq that needed it the most. I provided my services to displaced people, refugees, and civilians present in the places affected by conflict during the time of crisis. I also worked on improving the access to clean water and healthcare, enabling them to maintain regular contact with their families and loved ones.
Mosul operation resulted in mass displacement of civilians from their homes in Mosul city and its surrounding villages. We distributed food and hygiene items to the displaced persons and worked on water and sanitation projects to increase their access to water. Also, I served as a contact person for investigating conduct of hostilities against civilians.
Question: How was the ICRC able to have an impact on the humanitarian crisis?
Despite the difficult security situation, ICRC has been able to help hundreds of thousands of Iraqis. It has been working in close coordination with the local and regional organizations in order to provide the required aid and assistance. Even though it has been quite some time since the outbreak of the war, the humanitarian crisis in most of Iraq remains among one of the most critical in the entire world. However, with the efforts of ICRC and other players, a much more alleviated situation has been observed.
As fighting intensified around the Iraqi city of Mosul, ICRC increased its presence in the field for responding quickly to the new humanitarian needs. ICRC deployed two extra surgical teams to the hospitals receiving wounder personnel from the battle front, while stocks of food and other essentials were distributed to displaced civilians.
Question: Describe the challenges that you faced on your assignment in Iraq.
Even though I had a great time working in Iraq, it does not mean that I did not face any challenges. In fact, overcoming these difficulties remained one of the primary aspects of my work. It is extremely difficult to obtain reliable and comprehensive statistics on the state of public services in Iraq. The magnitude of the destruction in Iraq is larger than one can possibly imagine while sitting on the outside. Here it is important to note that undoubtedly the most prominent challenge for ICRC in Iraq is to make the society whole again.
The main challenges in Iraq were related to the presence of so many political, territorial, religious and ethnic disputes. Mosul city was almost at the center of these disputes because of several historical and geopolitical reasons. These disputes were complicating the front-line negotiations efforts. Many approvals were required to make sure that each party is well informed and on the same page. Also, field parties and commanders belonging to different political or military affiliation required different ways of negotiations and approvals.
Our entire focus was towards rebuilding the trust of the Iraqi population after years of bruising warfare. Reconciling the different ethnic and religious communities and working to integrate them together still remains the biggest contest for the ICRC or other humanitarian organizations.

How Dwayne 'The Rock' Johnson builds and maintains muscle
The Rock has been a staple in many action movies on the big screen for some time now, as well as being a wrestling superstar. And usually within these roles, he plays the big bad looking guy, and we mean really big. The Hollywood heavyweight seems to have an impossible physique that exudes masculinity. But with the busy schedule of a movie star, how does he manage to build then maintain a physique like that?
Here is how Dwayne 'The Rock' Johnson builds and maintains muscle.
Always look to progress
Johnson believes in progressive overload, which is to do with continually pushing your body to new heights once workouts get easy. You should be careful as you can injure yourself if you up it too quickly, however this is the way to ensure you progress.
It is important to listen to your body
The way your body responds to things is the only thing you should listen to. If you are trying a new workout, you must see how your body reacts to it. If it reacts well and you get good gains, then continue to follow it. If not, maybe it's not the workout routine for you. More so, if your body is telling you that there is pain, then usually it is not a good thing. Pushing through joint or muscle pain (not the good kind!) can leave you with injuries that can persist for a long time.
Go hard in the gym
When in the gym, really give everything you've got. All your frustrations can be let out in the gym, and giving it your all also ensures that you'll get a good workout and the most out of it.
Dwayne 'The Rock' Johnson has an impressive physique, which he says can be achieved naturally with a dedicated diet and a dedicated workout routine.
Gordon Ramsay and his fitness routine as a celebrity chef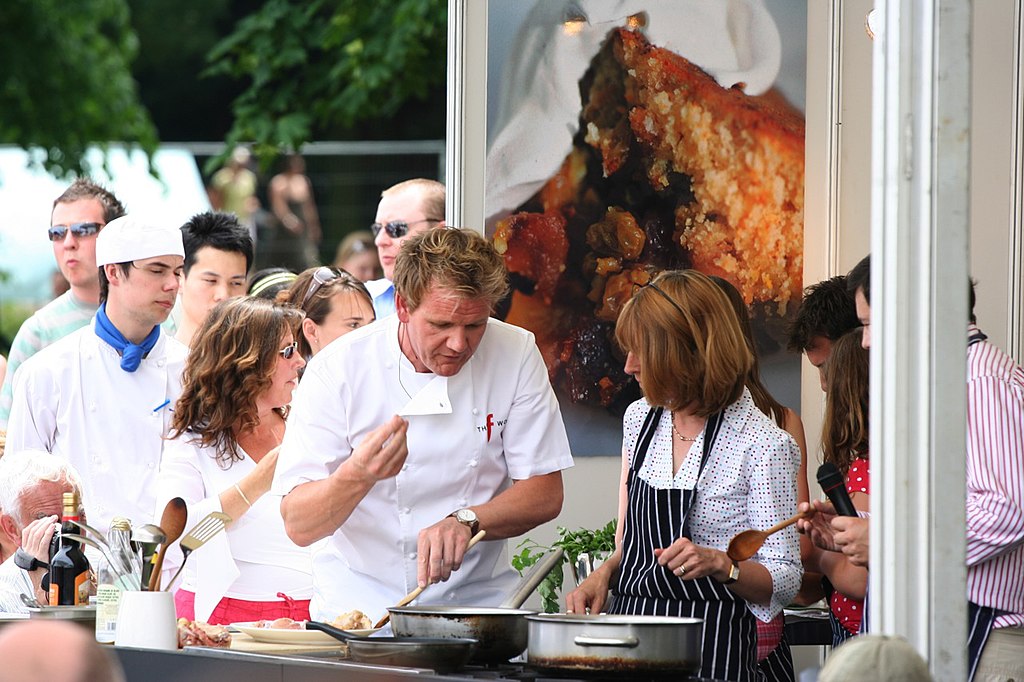 A chef is usually pictured as being overweight, due to the nature of the job. Having to constantly taste food to understand it, can't be good for your health. But with celebrity chef Gordon Ramsay, it doesn't show at all. This thanks to a fitness routine and healthy diet. Ramsay lost an incredible 50lbs, and he looks better than ever. His routine consists more of endurance training rather than lifting heavy weights, and he routinely trains with cycling when he's travelling. If he's not travelling, he makes sure to get his workouts in at his home gym (working out with Will Usher, former army captain and member of the Royal Protection Squad!).
"The more I train, the more normal I am, the more I feel that I'm still unchanged" said Ramsay in regards to his diet and training routine, which he believes keeps him feeling young and healthy.
Moreover, Gordon came out with a new cookbook called "Gordon Ramsay's Ultimate Food: Mouth-Watering Recipes to Fuel You for Life", which is full of healthy meals for the fitness enthusiast.
Gordon doesn't follow a specific diet or have a dietician, but he swears by certain rules for his eating habits. One of these is cutting down on dairy, which he believes makes you feel sluggish. Almond milk is his replacement, which mixes in with a smoothie consisting of berries yoghurt. He also believes in drinking a couple glasses of water before you eat a meal, which he says doesn't fill you up but it does stop you from eating excessively.
It's plain to see that Gordon Ramsay is in great shape, and it is evident in his body even at his age of 53. It is important to take care of your health, even if you are a celebrity chef who can create delicious meals at any time.
Daily habits of Mark Wahlberg to use in your own life
Mark Wahlberg is commonly on the big screens, and is obviously a healthy and fit guy just by looking at him. So it comes as no surprise that he has a rigorous daily routine and habits that keep him scheduled, disciplined and in shape.
It also helps him deal with his busy lifestyle as a movie star, producer and model.
Here are some of the daily habits Mark Wahlberg has that you could use to benefit your own life.
Early morning workouts
It's obvious that Mark Wahlberg works out, but how about a 5am workout?
Wahlberg rises early at 4am to start his day with a scheduled breakfast, then a 5am workout. After training intensely at the gym, he's drinking a shake at 6:30, then dropping the kids to school at 7:30 and eating at the same time. He says by 9am, he's been to church and eaten again.
Discipline is everything
This isn't surprising either, considering how disciplined he would have to be to continue his above schedule every morning. For Wahlberg, the discipline in his fitness, career and faith is how he keeps his life together. He continually strives for more and more, and he believes since he started acting he is much more disciplined, in contrast to when he was doing music.
He is always hustling
Wahlberg is always working towards the next big thing, and following his mantra of hustle harder. This started from his past when he was hustling in the music industry, to going in front of the camera and hustling within the movie industry where he enjoys his success of today.
Mark Wahlberg is a very disciplined person who follows habits almost religiously to do with fitness, faith and career. He believes it's this discipline and drive that has made and kept him successful.